Summer 2023
The ASPIRE Scholars attended the annual IRACDA conference in San Antonio in June, along with Hany Sobhi, co-I at Coppin State, and Tina Cavaluzzi, ASPIRE Coordinator. Despite the heat, we had a great time in the Alamo City.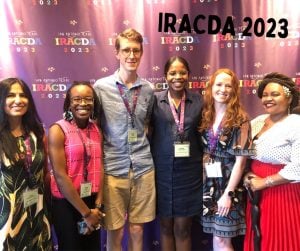 ASPIRE scholars also participated in the BME ISPEED program for the second summer, serving on panels about career pathways in STEM, and sharing with the students how they got where they are.
Coming up in August is the The Mentoring in Higher Education: A Professional Training for Success workshop at Morgan State University that the 2nd and 1st year scholars will attend, and an informal training on project management apps held in the Whiting School to close out the summer.
Winter and Spring 2023
We held our Annual Retreat in January at the Mt. Washington Conference Center, a picturesque extension of the JHU campus. We were pleased that Bassil Ramadan, a Vivien Thomas PhD scholar in BME, could join us. There were so many great speakers!!
Bisi Bell — Her Research and Her Path to Her Career

A. Lediju Bell, PhD, FAIMBE, John C. Malone Associate Professor &

PULSE Lab Director,

Department of Electrical and Computer Engineering, 

Department of Biomedical Engineering, 

Department of Computer Science

@MuyinatuBell

 

Kelly Clark – Overview on Writing Statements : Research / Teaching / Personal  

Roshni Rao – Designing Your Career – Understanding your Values, Skills & Interests

ASPIRE Scholar Lightning Talks
We inaugurate our ASPIRE Book Club in February as the scholars continue their journey to independence. The group will read and discuss
The Professor is In: The Essential Guide to Turning Your Ph.D. Into a Job

by Karen Kelsky over the course of 3 meetings until April. Meanwhile, Dr. Morris Verdone is teaching Principles of Neuroscience at Morgan State, and Dr. Dorman continues to co-teach the nervous system module this semester for A&P II at Coppin State.
Then we will meet again in May for our Annual Retreat, this time at the Coppin State University when the group will workshop 2 scholars' Specific Aims pages.
After that it's the IRACDA Conference in San Antonio in June, and participating in panels at the ISPEED summer program at JHU!
Summer and Fall 2022
Summer 2022 was busy and fun for ASPIRE scholars — we attended the IRACDA conference in Albuquerque and had a blast. Scholars completed the JHU Teaching Academy as well as workshops on writing a K Grant. Four scholars served on panels for the ISPEED summer program in BME. Scholars attended the Mentoring in Higher Education: A Professional Training for Success workshop held by the MSU Center for Innovative Instruction & Scholarship. We welcomed Dr. Itzy Morales Pantoja to the program and said goodbye to 3 ASPIRE scholars.
Fall is proceeding apace … we learned about the Teaching-as-Research program offered through the Center for Teaching Excellence & Innovation. Dr. Mack is attending workshops on Lab Set-up and Management offered through the JHM Professional Development and Career Office. Dr. Dorman is at Coppin State this Fall with Dr. Kavita Hegde, participating in her Human Anatomy & Physiology II course. You can also find us at BMES, SREB, AICHE and CRCNS conferences !

2022 1st Annual Grant Review Workshop
ASPIRE scholars and their PI's joined with ASPIRE Co-Directors to review Drs. Dorman and Mack's Specific Aims pages.
2022 Open House
Celebrating the achievements of ASPIRE, established in 2018 as a joint endeavor among Johns Hopkins University, Morgan State University and Coppin State University.
Highlights included:
Introduction of ASPIRE Program : Les Tung, co-Director, Professor of Biomedical Engineering
Presentation of Morgan State University's ASPIRE Program : Lisa Brown, co-Director, Interim Chair and Associate Professor, Department of Biology, Director, Office Of Undergraduate Research
Presentation of Coppin State University's ASPIRE Program : Hany Sobhi, co-Director, Wilson H. Elkins Professor of Chemistry, Director Center for Organic Synthesis
Diversity Initiatives and Opportunities to Engage : Darlene Saporu, Asst. Dean of Diversity and Inclusion, Whiting School of Education
Introduction of ASPIRE Scholars and 5 minute Lightning Talks about their ASPIRE work : Sri Sarma, co-Director, Vice Dean for Graduate Education WSE:
Allister Suarez, SOM BME Neurosci and Neuroengineering
Daniel Dorman, WSE Department of Biomedical Engineering
Elissa Leonard, SOM BME Cell and Tissue Engineering
Nzinga Mack, WSE Department of Biomedical Engineering
Rachel Smith, WSE Department of Biomedical Engineering
Rebecca Keener, WSE Department of Biomedical Engineering