New 2022-23 Scholars:
Anicca Harriot 
Biography
Anicca Harriot (she/her) is a Biochemistry & Molecular Biology PhD Candidate at the University of Maryland, School of Medicine. Her research focuses on the structural alterations to skeletal muscle in aging and dystrophy that contribute to sarcopenia and injury. Anicca plans to establish her career in space biosciences studying the effects of long duration space missions on the human body; she is thrilled to be joining the Kim Lab at Hopkins to do just that. Anicca also serves as the Chief of Community Development for #VanguardSTEM: Conversations for Women of Color in STEM, a non-profit dedicated to lifting the voices of women and non-binary people of color in STEM. Through #VanguardSTEM, Anicca is able to deploy her passion for advocacy and science communication alongside other women of color & non-binary people of color in STEM to self-advocate by fully representing themselves and their STEM identities and interests, without assimilation. Anicca's passion for advocacy and prominent influence has led her to being recognized as one of Motherboard's 2017 Humans of the Year, a 2017 Young Futurist for The Root, and most recently as a 2020 President's Fellow at the University of Maryland, Baltimore.  
Faculty Mentors
Research:
Deok-Ho Kim, PhD
Department of Biomedical Engineering, School of Medicine Cardiovascular Systems
Itzy Morales Pantoja
Biography
Itzy Morales Pantoja is a postdoctoral fellow at the Center for Alternatives to Animal Testing, at Johns Hopkins University. Her goal is to improve human in-vitro models to better recapitulate in-vivo like physiology for the study of neurological diseases. Pioneering research at her lab is adapting brain organoids to study learning and memory. Her postdoctoral research focuses on creating and implementing a MEA-microfluidic system to increase the mass and complexity of brain organoids to study distinctive electrophysiological signatures that separate normal from pathological in organoids derived from Alzheimer's disease patients.
Dr. Morales Pantoja received her PhD in Cellular and Molecular Medicine from Johns Hopkins School of Medicine in July 2020. During her doctoral research Dr. Morales Pantoja studied the ability of stem cells from multiple sclerosis patients with varying degrees of disability to become myelin producing cells under homeostasis and inflammatory conditions. The results of her research revealed that a chronic low-grade inflammatory environment significantly impaired the development of myelin producing cells and may have profound effects on the efficacy of regenerative therapies. This work highlights the importance of evaluating both cytoprotective and remyelination-promoting agents in the context of an inflammatory microenvironment that may influence myelin repair in people with multiple sclerosis.
Dr. Morales Pantoja earned her BS in biology with a minor in chemistry from the University of New Mexico in 2015.
Faculty Mentors
Research:
Thomas Hartung, PhD, and Lena Smirnova, PhD
Department of Environmental Health and Engineering, School of Public Health/Whiting School of Engineering
2021-22 Scholars:
Jamie Hernandez
Biography
Jamie Hernandez earned her BS in Biomedical Engineering at the University of Arizona in her hometown Tucson, Arizona. She then went on to pursue her Ph.D. in Bioengineering at the University of Washington where she was advised by Dr. Kim Woodrow. Her thesis research focused on developing drug delivery systems, like long-acting implants in application to low-cost HIV prevention, using a material fabrication method called electrospinning. Through this research, she became especially interested in how the body interacts with medical devices. As an ASPIRE fellow at Johns Hopkins University, she will be working in Dr. Joshua Doloff's lab, researching immune modulation of fibrotic tissue growth. Jamie is also passionate about making research opportunities more accessible, so throughout her Ph.D., she worked with teams of undergraduate students on various global health forced projects as a part of the University of Washington club Bioengineers without Borders. This experience, as well as her participation in teaching a lab course, built her interest in teaching as a career. Outside of the work, Jamie enjoys biking, baking, and gardening. 
Faculty Mentors
Research:
Joshua C. Doloff, PhD
Department of Biomedical Engineering, School of Medicine Cell and Tissue Engineering
Brandie Morris Verdone
Biography
Brandie Morris Verdone earned her BS in Neuroscience from Johns Hopkins University with a concentration in systems neuroscience. While at Hopkins, she worked in the laboratory of Solange Brown, MD PhD, studying the patterns of motor neuron degeneration in mouse models of Amyotrophic Lateral Sclerosis (ALS). She went on to complete her PhD in Neuroscience at Thomas Jefferson University under the mentorship of Piera Pasinelli, PhD. There she was able to combine her systems neuroscience background with the cellular and molecular focus of her graduate school work, which assessed the mechanisms of aberrant protein toxicity in a novel ALS-related mouse model. While at Jefferson, Brandie has been fortunate to take on opportunities in and out of the lab. She served as the Vice President of Academic Affairs for the Graduate Student Association, a student member of the Jefferson College of Life Sciences' Diversity, Equity & Inclusion Committee, a teaching assistant and guest lecturer for courses ranging from the high school to graduate levels, and served as a student liaison for the college's admissions office. While working in these capacities, Brandie has been able to practice science communication in everyday life. Her goal in everything is to make people as excited about neuroscience as she is, as she believes there is no point to what we do if we can't translate it to those around us. Brandie has been the recipient of numerous funding awards including the Fredric Rieders Family Foundation Graduate Student Recognition Award, The Professor Fredric Rieders, PhD Scholarship, and a Trainee Professional Development Award from the Society for Neuroscience. She will be returning to systems neuroscience as part of her IRACDA Postdoctoral Fellowship under the mentorship of Dr. Kathleen Cullen, using rodent models to study the nucleus prepositus and the intersection between gaze, head, and neck movements. Brandie is excited to be back in Baltimore with her husband, James, and their dog, Jake.
Faculty Mentors
Research:
Kathleen Cullen, PhD
Department of Biomedical Engineering, School of Medicine Systems Neuroscience
2020-21 Scholars:
Daniel Dorman
Biography
Daniel Dorman earned his BS in biomedical engineering from LeTourneau University in Longview, Texas, with a focus in biomechanics research. Subsequently, he worked as an Oak Ridge Institute for Science and Education (ORISE) fellow for the Injury Biomechanics Branch of the U.S. Army Aeromedical Research Laboratory, researching biomechanics and prevention of injury. He then completed his PhD in the Interdisciplinary Program in Neuroscience at George Mason University in the lab of Dr. Kim Blackwell, with a focus in computational neuroscience. Daniel's research focused on synaptic integration, calcium dynamics, and plasticity in spiny projection neurons of the striatum through the application of data driven, biologically realistic computational modeling. His work investigated the mechanisms that support learning in individual neurons of the striatum, a brain region important for goal-directed and habit learning and implicated in neural disorders of substance abuse and addiction. He found that spatial and temporal synaptic input patterns to a single neuron are encoded by synaptic calcium signals and that inhibitory synaptic inputs enhance synapse specificity of calcium signals. He collaborated with experimentalists to investigate intrinsic differences between neurons from two anatomical regions of the striatum known as patch and matrix compartments. Lastly, he implemented a biophysical calcium-based plasticity rule in biologically-detailed neuron models to predict how in vivo-like activity affects plasticity. His results predict that spatiotemporal synaptic input patterns determine the magnitude and direction of synaptic plasticity with in vivo-like activity, and that plasticity is robust to in vivo-like trial-to-trial variability.
Faculty Mentors
Research:
Sridevi Sarma, PhD
Institute for Computational Medicine, Department of Biomedical Engineering, School of Medicine Neurology
Clinical:
William S Anderson, MD PHD
Department of Neurological Surgery
Nzinga Mack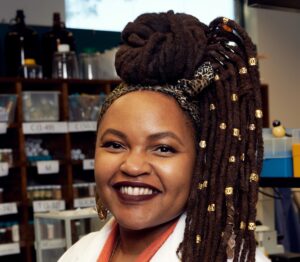 Biography
Nzinga Mack is a teacher, scientist and nature lover who was born and raised in Harlem, NY and graduated from Howard University with her Bachelor of Science in Biology and earned her PhD in  Pharmacology from Florida A & M University. At FAMU her research focused on metabolism in triple negative breast cancer and colon cancer. Nzinga is honored to be a recipient of the highly competitive NIH Institutional Research and Academic Career Development Postdoctoral Award at Johns Hopkins University. Nzinga's mission is to attack health disparities by continuing to research health disparities, and by training upcoming scientists in the field of health disparities. When Nzinga is not working, she can be found gardening, raising butterflies, and enjoying nature. Nzinga's doctoral research focused on the Warburg effect, the propensity for many types of cancer cells to preferentially utilize glycolysis over oxidative phosporylation as a source of energy. The research explored the metabolic effects of lactate dehydrogenase knockdown in triple negative breast cancer and colon cancer with regards to lactic acid production, ATP production, glucose consumption, and differentially expressed genes.
Faculty Mentors
Research:
Jamie Spangler, PhD
Biomedical Engineering and Chemical & Biomolecular Engineering, Whiting School of Engineering ChemBE
Feilim Mac Gabhann, PhD
Department of Biomedical Engineering, Whiting School of Engineering Institute for Computational Medicine
2019 – 2020 Scholars:
Rebecca Keener
Biography
Dr. Rebecca Keener's graduate work with Dr. Carol Greider has given her a foundation in molecular biology and genetics research. She will be combining her experience in genetics with computational approaches to study human genome variation as an ASPIRE fellow at Johns Hopkins University. Deciphering the consequence of variation is essential for understanding both fundamental biology and disease. Keener's post-doctoral work with Dr. Alexis Battle and Dr. Rasika Mathias will give her the computational skills to address these questions and bring an interdisciplinary approach to her future lab.
During her graduate work, she sought out many different teaching experiences: She was a teaching assistant, a mentor to both graduate and undergraduate students in the lab, and a graduate of the Johns Hopkins Preparing Future Faculty Teaching Academy. In addition, she designed and taught a course for non-majors, Science in Hollywood, which was a Pass/Fail, winter semester course with 27 students. As part of a team, Keener created and implemented the EVOLVE platform which is an innovative online platform for delivering course content to prepare students for an active learning environment. EVOLVE was implemented in a graduate level genetics course for two years ago and it is still engaging students today.
Faculty Mentors
Research:
Alexis Battle, PhD
Department of Biomedical Engineering
Clinical:
Rasika Mathias, ScD
Department of Medicine
Elissa Leonard
Biography
Dr. Elissa Leonard attended Harvey Mudd College, where she completed her BS in Biomolecular Systems and Design, and developed novel bioreactor designs for corneal tissue engineering with Dr. Elizabeth Orwin. She earned her PhD at the University of Texas at Austin, where her research focus shifted to engineering therapeutically relevant autoimmune T cell receptors under the supervision of Dr. Jennifer Maynard. Currently, Dr. Leonard is a Postdoctoral Fellow at Johns Hopkins University, where she has continued research in protein and immune engineering with Dr. Jamie Spangler. Currently, her work focuses on engineering antibody-cytokine fusion proteins that can shift the immune balance and promote anti-tumor or pathogen-clearing immune activity. She is also revisiting her regenerative engineering roots by engineering of growth hormones for applications in osteogenesis.
Faculty Mentors
Research:
Jamie Spangler, PhD
Department of Biomedical Engineering, Whiting School of Engineering ChemBE
Clinical:
Jonathan Schneck, PhD
Department of Oncology
Publications
Leonard, Elissa K., Michael I. Leff, and Jamie B. Spangler. "Weaponizing T-cell receptors through molecular engineering." Journal of Biological Chemistry 294.15 (2019): 5805-5806.
Rachel Smith
Biography
Dr. Rachel Smith earned her BS in Biomedical Engineering from the University of Tennessee, Knoxville in 2014 and her MS and PhD from the University of California, Irvine in 2019 in Biomedical Engineering. Her doctoral work focused on scalp EEG signals processing to predict treatment outcome in a form of pediatric epilepsy called infantile spasms. She used both simple metrics, such as EEG amplitude and power spectrum, alongside more targeted metrics of brain function, such as functional connectivity and long-range temporal correlation strength, to identify patients that may be at greater risk of failing the administered antiepileptic drug. Smith's current work in Sri Sarma's lab uses dynamical systems theory to model cortical stimulation in the human brain, a procedure that may help clinicians delineate the seizure onset zone in surgical candidates with medically refractory epilepsy. She has had past research experience in ECG signals processing in her undergraduate lab; arterial blood pressure waveform processing through an internship at Edwards Lifesciences; and graph theoretical analysis through an appointment at Oak Ridge National Laboratory.
Teaching: In addition to five quarters as a graduate TA, Smith pursued extensive pedagogical training during her time as a graduate student to prepare me for a career in higher education. She was one of two engineers selected for UCI's Pedagogical Fellows Program, a year-long training program in evidence-based teaching practices, which culminated in leading the 1.5 day TA Professional Development Program for new graduate TAs. She gained certifications in Course Design, Teaching Excellence, and Mentoring Excellence, and she became a CIRTL Associate. Additionally, Smith sought opportunities to guest lecture, resulting in three undergraduate course lectures and one graduate course lecture. Her success in teaching was recognized by receiving the BME Graduate Student of the Year award two consecutive years, an award that is given solely through undergraduate nominations and votes. She also received the UCI Division of Teaching Excellence and Innovation's Most Promising Future Faculty Award, a one-quarter fellowship given to two graduate students from a campus-wide pool of nominees with exemplary research, teaching, and service to the university. During her last year at UCI, she served as the Henry Samueli School of Engineering's Pedagogical Fellow, in which she led a journal club investigating evidence-based teaching practices.
Faculty Mentors
Research:
Sridevi Sarma, PhD
Institute for Computational Medicine, Department of Biomedical Engineering, School of Medicine Neurology
Clinical:
Joon-Yi Kang, MD
Department of Neurology
Allister Suarez
Biography
Dr. Allister Suarez's research interests are interdisciplinary in the basic biomedical sciences. As a graduate student and postdoctoral fellow in Dr. Takanari Inoue's lab in the Department of Cell Biology, his research was in synthetic cell biology. His thesis work focused on the interplay between biochemical signaling and membrane deformation in cell migration. Cell signaling could be modulated by rapidly perturbing cell morphology using a chemically inducible dimerization (CID) system with curvature-inducing proteins, as visualized by live cell imaging with fluorescence microscopy. To elucidate the novel role of plasma membrane deformation in the positive feedback loop that promotes PI(3,4,5)P3 production at the leading edge, his project employed synthetic biological techniques in concert with curvature-sensing and -inducing proteins of the Bin/Amphiphysin/Rvs (BAR) superfamily. This new molecular toolbox allows for exploration of biochemical signaling downstream of rapidly-induced nanometer-scale membrane deformation in living cells. When Allister completed his first year in the ASPIRE program, his research interests in fibrosis and the role of extracellular matrix structural cues in the organization of tissue architecture led him to transfer laboratories to provide him with expertise in mechanobiology. His research mentors are Dr. Deok-Ho Kim, Dept. of Biomedical Engineering and Dept. of Medicine at Johns Hopkins School of Medicine and Dr. Enid Neptune in the Dept. of Medicine at Johns Hopkins School of Medicine. Dr. Hany Sobhi, Dept. of Natural Sciences at Coppin State, continues to be his teaching mentor in organic chemistry. He created an IDP with Dr. Kim and Dr. Sobhi. He has been focusing on developing a new project in Dr. Kim and Dr. Neptune's lab that focuses on both their expertise in mechanobiology and pulmonology, respectively. His new project is exploring the plasticity of lung fibroblasts in idiopathic pulmonary fibrosis by exploring the roles of extracellular matrix topography and cell stretching. His goal is to develop an in vitro model and identify novel signaling pathways guiding the cell fate of fibroblasts, lipofibroblasts, and myofibroblasts. Allister is planning to complete a first-author paper in the coming year detailing the in vitro model, transcriptomics analysis, and bioinformatics analysis of mechanobiological signaling pathways in fibroblasts in idiopathic pulmonary fibrosis. Additionally, he is planning to complete a first-author paper describing his teaching-as-research project in Coppin State undergraduate organic chemistry laboratory, comparing the effects of learners' critical thinking skills resulting from a remote learning environment versus face-to-face instruction. 
Faculty Mentors
Research:
Deok-Ho Kim, PhD
Department of Biomedical Engineering, School of Medicine Cardiovascular Systems
Clinical:
Enid Neptune, MD
Medicine-Pulmonary and Critical Care Medicine